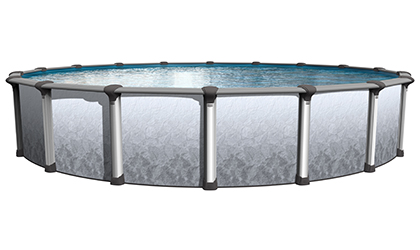 Just like The Alexander Falls, this swimming pool is beautiful to behold! The Alexander is the ultimate in size and construction design, with each piece manufactured to exacting standards. This pool will transform your backyard into a family entertainment center while complimenting the beauty of your home. The oversized frame, column uprights, and resin bottom rails adds the durability expected of such an iconic pool. Every Alexander is produced in the United States and features a Vinyl Works deluxe pool liner, also manufactured in the United States.
52" Wall Height
9" Steel Top Ledge
Steel Gray Uprights
Steel Stabilizer, Top Plate, and Bottom Plate
Gray Stained Glass Exterior Wall Pattern
Two Piece Ledge Cover
Oval System is Non-Buttress Only
Round
HEIGHT: 52″
12′, 15′, 18′, 21′, 24′, 27′, 30′
Interested in more information?  Reach out today and we'll help you find the best pool for your home.